¿Un estudio de diseño en Bilbao que crea y edita objetos únicos inspirados en la ciudad?
–––
A design studio in Bilbao that creates and edits unique objects inspired by the city?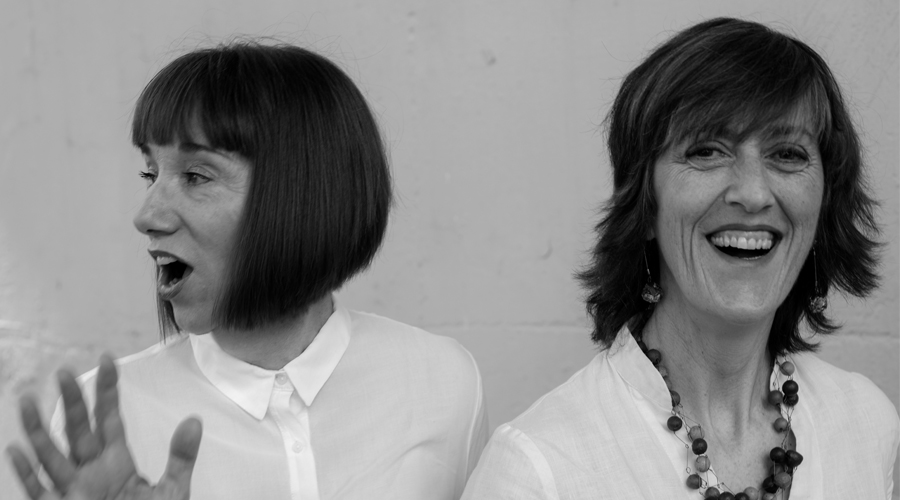 Un momento. Primero, un poco de historia…
Somos Pilar (a) y Natalia (erre), diseñadoras gráficas de formación y creadoras de a_erre design en 1995.
Digamos que desde entonces le hemos dado la vuelta a la imagen de marca de muchas empresas del sector industrial vasco, ayudado a crear la de otras nuevas, y a comunicar la cultura corporativa de centros tecnológicos e instituciones.
Pero en nuestros cuadernos de bocetos también se han ido acumulando ideas sobre Bilbao, su arquitectura, cultura, y esos detalles que la hacen única.


Algo diferente de Bilbao
En 2012 revisamos esos cuadernos y decidimos diseñar y producir una pequeña colección de objetos inspirados en nuestra querida ciudad, porque nos parecía que en los comercios locales faltaban piezas sencillas, con buen diseño, contemporáneas y de calidad, para adquirir como recuerdo.
(Aquí tenemos que confesar que, desde siempre, somos fans de los objetos "souvenir" que se pueden adquirir en ciudades como Barcelona, Berlín, Londres, Milán, Oporto… donde el buen diseño está presente hasta en el más humilde de los objetos).
Así que, pusimos en marcha nuestra creatividad y surgió la idea del mapa o plano de Bilbao, compuesto con los nombres de sus calles y puentes en diferentes tipografías y tamaños, y donde el espacio en blanco define el trazado de la ría, creando un singular "callejero" de la ciudad.

––––––––––

Just a moment. First, a bit of history...

We are Pilar (a) and Natalia (erre), graphic designers by training and creators of a_erre design in 1995.

Since then, we have turned around the brand image of many companies in the Basque industrial sector, helped to create new ones, and helped to communicate the corporate culture of technology centres and institutions.

But in our sketchbooks we have also been accumulating ideas about Bilbao, its architecture, culture, and those details that make it unique.


Something different about Bilbao

In 2012 we reviewed those sketchbooks and decided to design and produce a small collection of objects inspired by our beloved city, because it seemed to us that local shops lacked simple, well-designed, contemporary and quality pieces to buy as souvenirs.

(Here we have to confess that we have always been fans of the souvenir objects that can be bought in cities such as Barcelona, Berlin, London, Milan, Porto... where good design is present in even the most humble of objects).

So, we set our creativity in motion and came up with the idea of the map of Bilbao, composed of the names of its streets and bridges in different fonts and sizes, and where the white space defines the layout of the estuary, creating a unique "street map" of the city.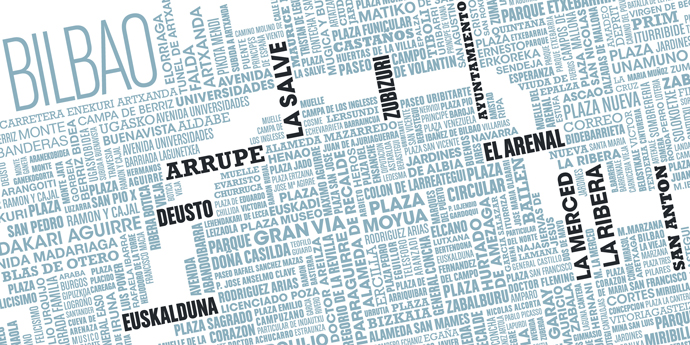 Es un diseño atemporal, que gusta mucho y que venimos aplicando en diferentes objetos sencillos, bien hechos y duraderos.
Unos meses después, en 2013, pensamos que nuestro proyecto era único y lo suficientemente interesante como para tener un espacio físico propio, no solo en las redes, donde la gente pudiera ver y tocar nuestros productos, y nos trasladamos a un local que transformamos en tienda, galería, y que también es nuestro estudio gráfico.
Desde entonces, poco a poco, porque somos mas de calidad que de cantidad, hemos ido diseñando y dando vida a productos que reflejan nuestra visión de Bilbao y la cultura local.

––––––––––

It is a timeless design, which we like a lot and which we have been applying in different simple, well-made and durable objects.

A few months later, in 2013, we thought that our project was unique and interesting enough to have its own physical space, not just on the web, where people could see and touch our products, and we moved to premises that we transformed into a shop, gallery, and which is also our graphic studio.

Since then, little by little, because we are more about quality than quantity, we have been designing and giving life to products that reflect our vision of Bilbao and local culture.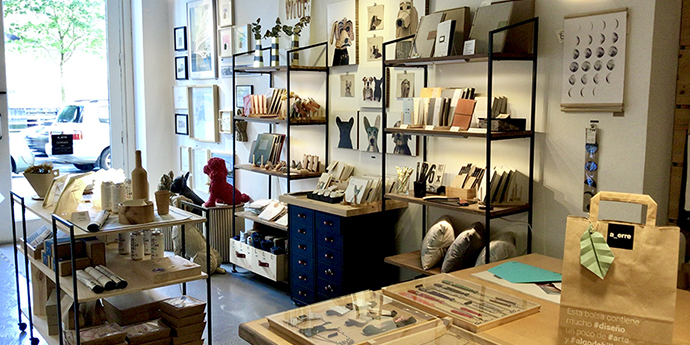 Si vienes a la ciudad, acércate a visitarnos. Estamos junto al puente de La Salve y la Ría, en la margen derecha, justo frente al Guggenheim. En nuestro espacio también encontrarás obra gráfica de creador@s locales, una selección de libros de editoriales independientes del entorno y, sobre todo: mucho diseño, un poco de arte y algo (diferente) de Bilbao.

––––––––––

If you come to the city, come and visit us. We are next to La Salve bridge and the Ria, on the right bank, just in front of the Guggenheim. In our space you will also find graphic work by local creators, a selection of books by local independent publishers and, above all, a lot of design, a bit of art and a bit of culture: a lot of design, a bit of art and something (different) from Bilbao.
Pilar Andrés & Natalia Rotaeche
Diseñadoras y fundadoras / Designers and founders
a_erre
Avda Universidades, 2 bajo dcha
48007 Bilbao
Bizkaia, Spain
T:+34 944 42 27 35
[email protected]

Síguenos en las redes / Follow us on social media
––––––––––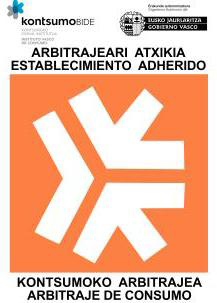 https://www.kontsumobide.euskadi.eus/y10-kb2tmp/es/y38aAppWar/establec/distintivoMail/201703141458CA174889?locale=es